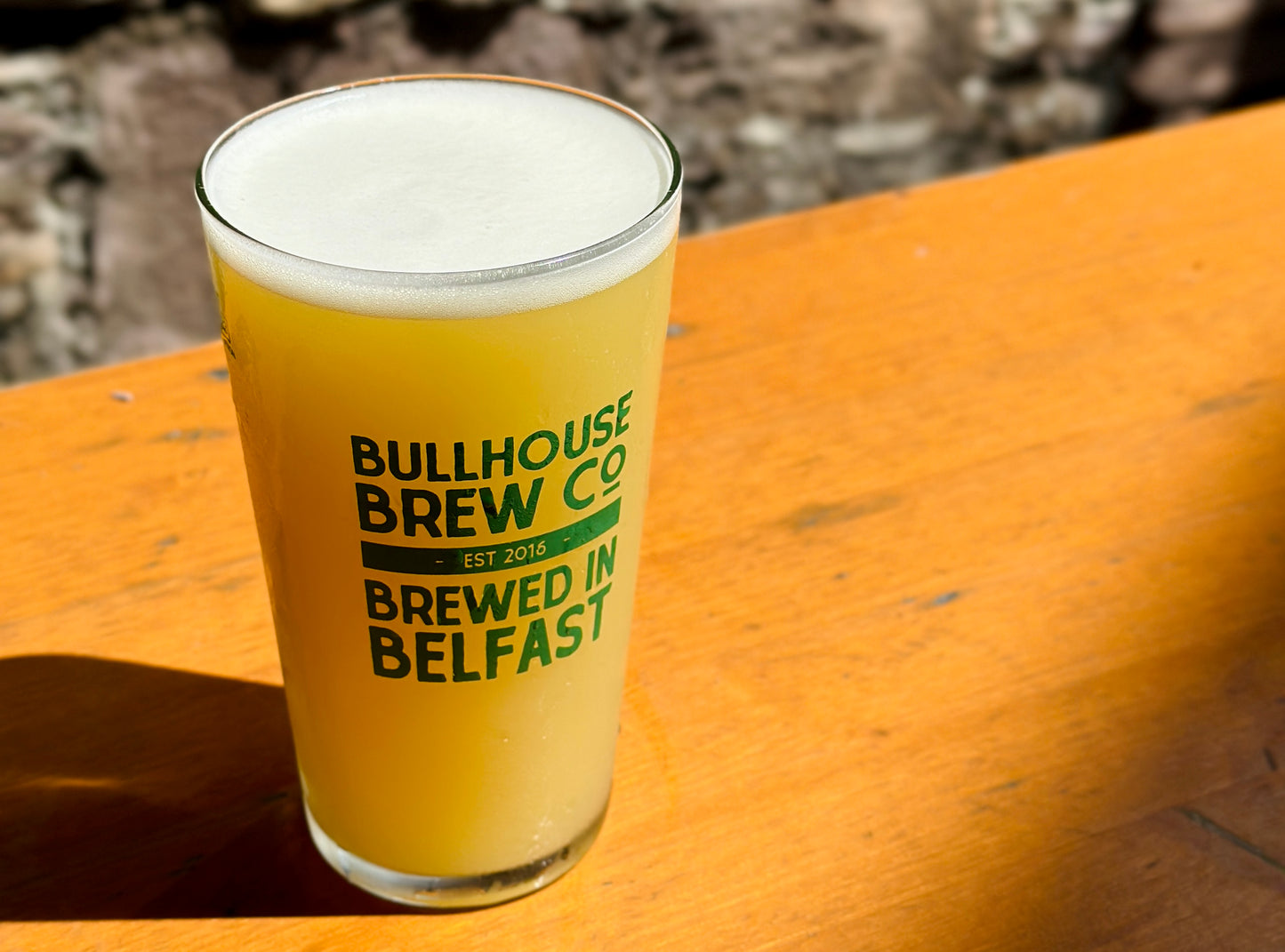 Over the last few weeks, we have made some special deliveries to some of our key clients. We've given you a few sneak peeks on our social media so you might have already seen it but we've been delivering our branded glassware to the bars in Belfast that have a permanent Bullhouse line. Northern Ireland's craft beer scene has been steadily growing over the last few years and we wouldn't be able to keep doing what we do without the support of local bars and establishments. 
We are extremely grateful for all the bars that are pouring Bullhouse across the UK, Ireland and further afield in Europe. We wanted to create a range of glassware to mark the occasion and really showcase the brand. We want all you hopheads to source these glasses and tag us when you're out and about, whether it's a Rolling Papers in the sun or a Road Trippin' in the pouring rain, we're here for it!
One of Belfast most beloved bars The Errigle has been flying the Bullhouse flag from the very start and we wanted to take this opportunity to pay homage to their loyalty and repay them with a shoutout. Located on the Ormeau Road, The Errigle is known for its wide and varied beer offerings, great atmosphere and live entertainment. The craft selection is always something to be admired and we are happy to be part of their craft line up every day. Paul Boyce, The Errigle's GM had a few words to say:

"Bullhouse and The Errigle go way back to when Will was brewing out of the old bull house on his farm. He brought us some Small Axe to try and the rest is history. We always look to source good quality local beers and make sure there is an opening for any independent breweries looking to showcase their beers on our 5 craft lines that are on constant rotation. These local beers are great for tourists, regulars and first timers. We are proud to have Bullhouse on a permanent line and give all our patrons a small taste of Belfast brewing everyday."
We want to thank Paul and his team for making us part of the Errigle furniture, most recently hosting a beer and cheese night with the lads from Indie Fude. It is events like this that give punters who may be new to craft beer the opportunity to try a variety of beers whilst also learning about the industry - the added bonus is it's a great night's craic!
Moving on from Ormeau Road to the city centre, in the heart of Belfast lies The Morning Star, another pub that we like to call home. Proudly owned and operated by the McAlister family since 1988, you can find this hidden gem by walking through Pottingers Entry, a narrow cobbled street running between two of the city centre's busiest thoroughfares. They are one of Belfast's oldest pubs dating back as far as 1810, first built as a coaching stop for the Belfast to Dublin post. Our new glasses can be found behind the bar where James and his team will be waiting to serve you some of the freshest brews in the city. James stumbled across our beers in a local off licence, and he has been a fan ever since.
"It's great to have a local brewery that delivers quality craft beer, it has given the bar an option for something a little bit different. Rolling Papers complements the other beers we have on tap and it has allowed our customers to go on a better beer journey."

Collaborating with establishments like the Errigle and the Morning Star isn't just about pouring pints; it's about building an authentic craft beer community. These beloved Belfast pubs aren't just watering holes, the beers that these bars pour become part of conversations and celebrations, elevating brand awareness beyond labels and logos. These bars have stood the test of time thanks to the hard working individuals in them and the passion they have for hospitality in Belfast.
Let's raise a glass to all the pubs in Belfast - Bullhouse glass or not, they should be celebrated and we're excited to see the craft landscape slowly changing in Northern Ireland. We want to see more independent bars, more festivals, more events, and more home brewers turning their hobby into a permanent gig. 
Cheers,
Team Bullhouse.