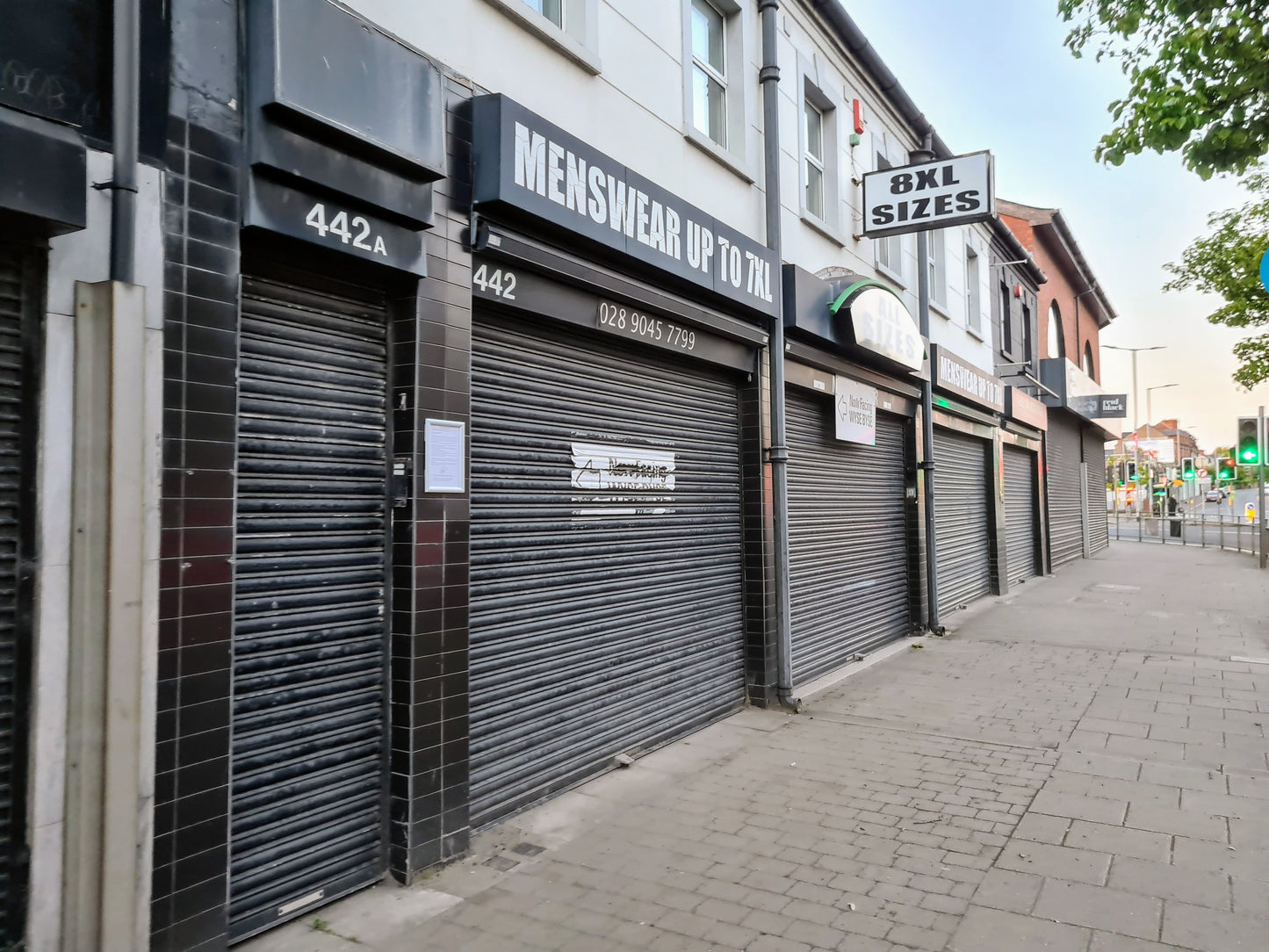 Pioneer Belfast - 442-446 Newtownards Road, Belfast.
8XL Beers?
Today we're letting the cat out of the bag on a project that's been three years in the making. We've run into numerous brick walls and hurdles along the way and thought it would be useful to share our story, not only on the absurdities we faced along the way but also to thank the numerous people along the way who've believed in our plans and supported us.
Way back in September 2018 we got in touch with Eastside Partnership when we knew the original 500sqft Bullhouse was going to be outgrown. We wanted to find a location in east Belfast for the brewery. There's a lot happening in the east and there's a lot more still to happen that we're excited about. With the help of Eastside Partnership, and Maurice Kinkead in particular, we managed to find a unit on the Newtownards Road, the former 8XL menswear shop just beside the Holywood Road junction and right beside the Glider stop.
The initial plan was to open Belfast's first brewpub. We applied for planning permission and because we were applying for B3 General Industrial permission in a retail zone, we had to jump through loads of hoops in terms of noise impact assessments and odour assessments as the Council didn't to set a precedent that B3 use could be obtained in a retail zone.
Then we hit our first major roadblock, the sewage infrastructure problems we have in NI. To connect a brewery to the public sewage system you require trade effluent consent. Unfortunately, ~75% of wastewater treatment facilities in NI are at max capacity, which means no new connections are being granted. Gavin Robinson MP was extremely helpful in fighting our case, and finally we got consent, but only if we installed a holding tank in the rear yard, with a timer that discharged our trade effluent from 10pm-7am when the sewers are at reduced capacity. This was going to cost quite a lot of money but we thought it might be workable.
As a sidenote, NI Water estimate they require £2.1Bn to upgrade the sewage system to deal with current capacity. Major infrastructure developments are having to install their own treatment facilities as they can't connect into the public network. Because sewers aren't sexy it's not widely reported, but it's a serious issue facing NI, nearly as serious as the health crisis because it's affecting our ability to attract inward investment and grow the economy.
Finally, we needed to take a sample of the floor to make sure we wouldn't collapse the building into the Connswater when the tanks were full of beer. Unfortunately the results came back that we'd need to dig the floor out and put a new 6" slab in, this was the final nail in the coffin so we decided to look for somewhere else to move the brewery to.
Basically after 18 months we were back to the drawing board. We signed for the unit in Boucher in June 2020 and finally moved in in September, where we have 6000sqft to grow into.
We then looked into the possibility of getting a premises license for the brewery at Boucher.
As we've shouted about from the rooftops for the last 5 years, the licensing system in NI is 120 years old and not fit for purpose. Stormont had the chance to fully reform the legislation but instead decided to tinker with opening hours and kick the can down the road.
For a bit of background, there are 1200 licenses left in NI, and to open a new venue you need to buy an existing licensee out. However, if you buy a countryside pub and want to move the license into a different area, you need to make sure no one in the area you're moving the license into objects.
Usually (in Belfast especially) this involves brown envelopes full of cash. Cash that we don't have!
Anyone with a license in the area you're wanting to move into can object on the grounds of competition, because at the end of the day a license is a license, whether you're selling macro lager or selling local beer. So no matter what you dress it up as, in the eyes of the law a license is a license.
The main problem in NI is that the supermarkets end up buying up most of the pub licenses, using them to do off-sales as a full pub license allows you to do on or off sales. When a new supermarket opens, generally that means a community somewhere has lost their local pub. This is a major crisis that has led to Northern Ireland as a region having the fewest pubs per capita in the UK. It removes competition for the existing pubs and drives prices up at the expense of the consumer. It makes people drink at home because they can buy cheap beer in the supermarket and it deprives rural communities of their local pub.
After making enquiries about obtaining a license for Boucher, we were told we had no chance as we'd be competing directly with a multinational supermarket chain.
Luckily, we still had the option on the unit in east Belfast, so we made enquiries. East Belfast has hardly any pubs. Over the last 20 years, the number of pubs in east Belfast has fallen by 50%.
During Covid, the price of a license actually increased as there was a huge amount of support for the sector from the NI Executive. For the larger pubs with a rateable value over £50k (ie their estimated rental value as assessed by LPS), the Large Hospitality and Tourism Support Scheme alone paid out over £30m to around 280 venues in grants. Pubs are rated via LPS on the receipts and expenditure method, which is a calculation of their estimated rent based on a multiple of their net profits.
To apply for the pub license we had to obtain further change of use planning permission on the property, this time from brewery to public house. We then found a clean license from a pub that was closing down, paid an option agreement, secured a barrister and solicitor and got a date in Court. We also had to prepare a report of the vicinity from a planning expert.
In NI, the default position is that no new licenses are to be issued (ie pubs can't move their license to a new area) unless you can prove to the Court that there is a requirement for a new license in the area that you want to move it into, based on traffic data, population density, the existing licensed premises in the area etc.
We had been told to expect some pubs in the area or just outside the area to ask for bribes in exchange for not putting in an objection. Not because this is unique to east Belfast, but that it's the norm in licensing in NI in general. Thankfully no pubs in the immediate vicinity that we had drawn up decided to object, but one pub just outside the vicinity (further out of town) did threaten to object unless we paid a bribe.
We decided we didn't want to start paying people off, so we ignored their request and in the end it was a speculative effort at getting some cash as no objection came in during the notice period before our Court date.
The last piece of the puzzle was financing the project. We'd thought about crowdfunding but in the end we found a few local investors who believe in the vision we have for creating a community focused neighbourhood bar in the heart of east Belfast.
We're planning to open this side of Christmas, and we've decided not to go for a late license so we'll be closing at 11pm. Long term plans include the launch of a casual Saturday morning cycling club (our beer garden will back onto the greenway) and regular tastings and events such as homebrew classes.
Beer wise, we'll have between around 20 taps of the freshest beer available. With around 10 taps dedicated to our own beers with the rest being rotating guest taps with maybe one or two permanent lines of the beers we love to drink. We'll be fully independent with the ability to offer whatever product we choose. We'll also have a dedicated off-license including the largest selection of beer, wine and spirits in east Belfast.
We'll also be doing a pretty major expansion at the brewery in Boucher. The plan is to upgrade to a 20HL 3 vessel custom made brewhouse, and more than double our fermentation capacity. We'll also be installing a coldroom among upgrades to the floor, the chilling system and the canning machine. Finally (if the new producers' license allows) we'll be opening a gift shop with a permanent weekly taproom at the brewery and offering tours of our premises.
See you for pints before Christmas?