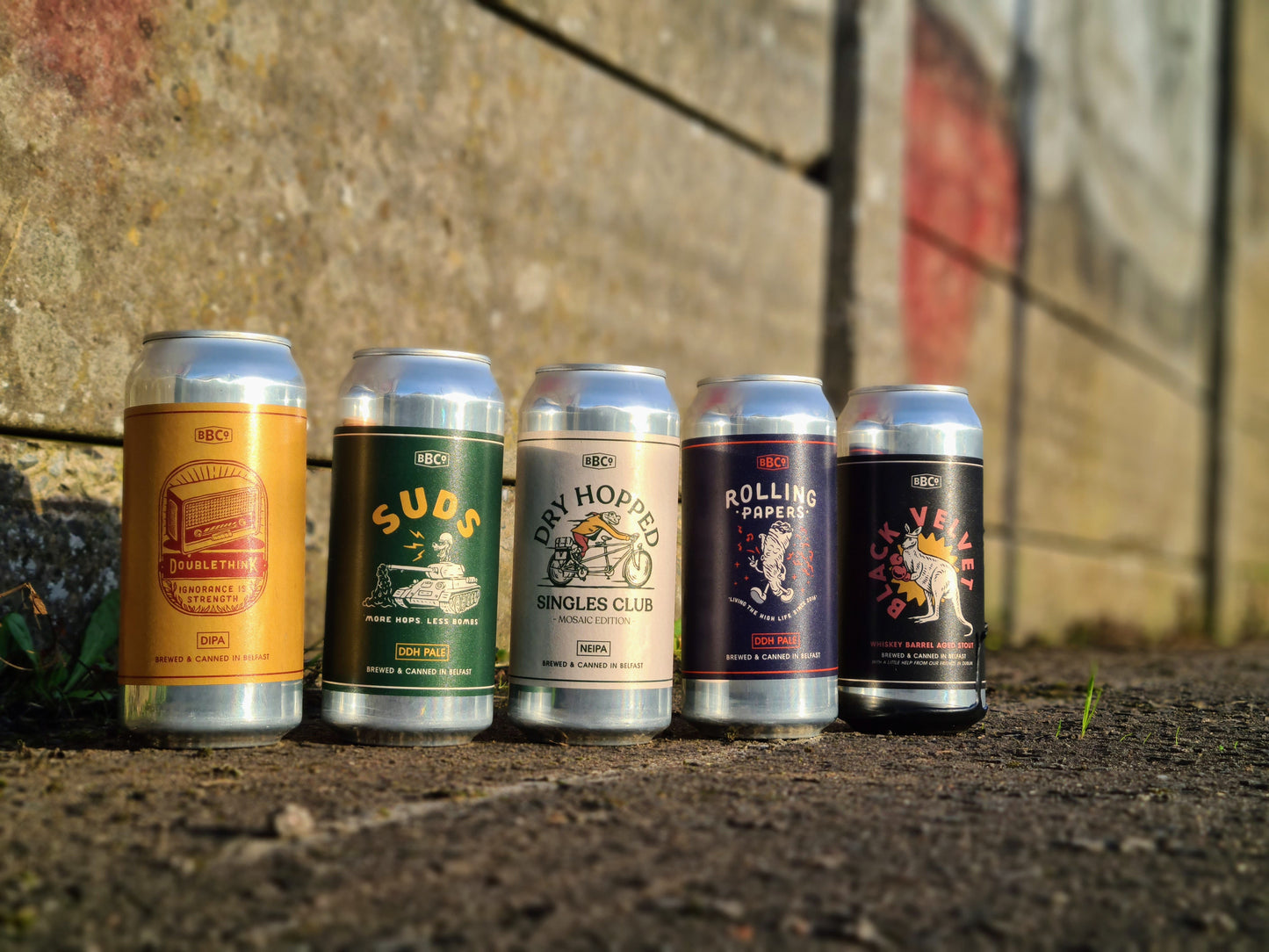 Hello beer fans. 
Today we're happy to let you know about our new look. We've had a few facelifts over the past 4-5 years as the brewery has evolved from little more than a hobby, to what it is today, five people's livelihoods. 
We've been in our new premises for a little over 12 months now. 2021 has been a huge year for us. We've secured a license to open the first new bar in Belfast in around 30 years and we've had our beer pouring in multiple export markets around the world. 
As our net has been cast wider and people from Barcelona to Verona have been enjoying our beers and we've started distributing on a national level in GB, we've been thinking about our packaging and whether it reflects the massive changes we've had in our business over the past 12 months.
As a result, we decided to look at how we could do things differently. 
We're delighted with the quality of our beers. We've poured alongside some of the best breweries in the world this year and we're pleased with how our beers stand up to the toughest competition. This is despite the fact we still make beer using a brewhouse cobbled together with 3 old dairy tanks from farms around Ireland. #upcycling
We've invested where it matters, in our cold side and we can make incredibly consistent, world-class beer.
To reflect these changes, we're proud to showcase our new look!
To start with, we have some new specials. The cores will look slightly different over the coming weeks and months and are being extended, but in the meantime, we have the following beers launching today:
Black Velvet
Collaboration with our friends at The Dubliner Irish Whiskey. A full bodied, velvety Irish stout aged in The Dubliner Irish Whiskey casks for 9 months.
Suds
A hazy, pillowy-soft DDH Pale Ale brewed with oats, fermented on our house blend.
These will be followed by:
Rolling Papers
Multiple dry-hop additions combine with the fruity esters of our house blend to give you something hazy and immensely crushable. 
Dry Hopped Singles Club - Mosaic
A series of pillowy-soft, juicy NEIPAs fermented on our house blend, showcasing some of our favourite hops.
Doublethink
A big ol' juicy banger of a DIPA. Fermented low and slow on our house blend to reduce ester formation and maintain the thick, creamy body we love.
We hope you enjoy them (responsibly) and look forward to seeing them out in the wild.
Bullhouse