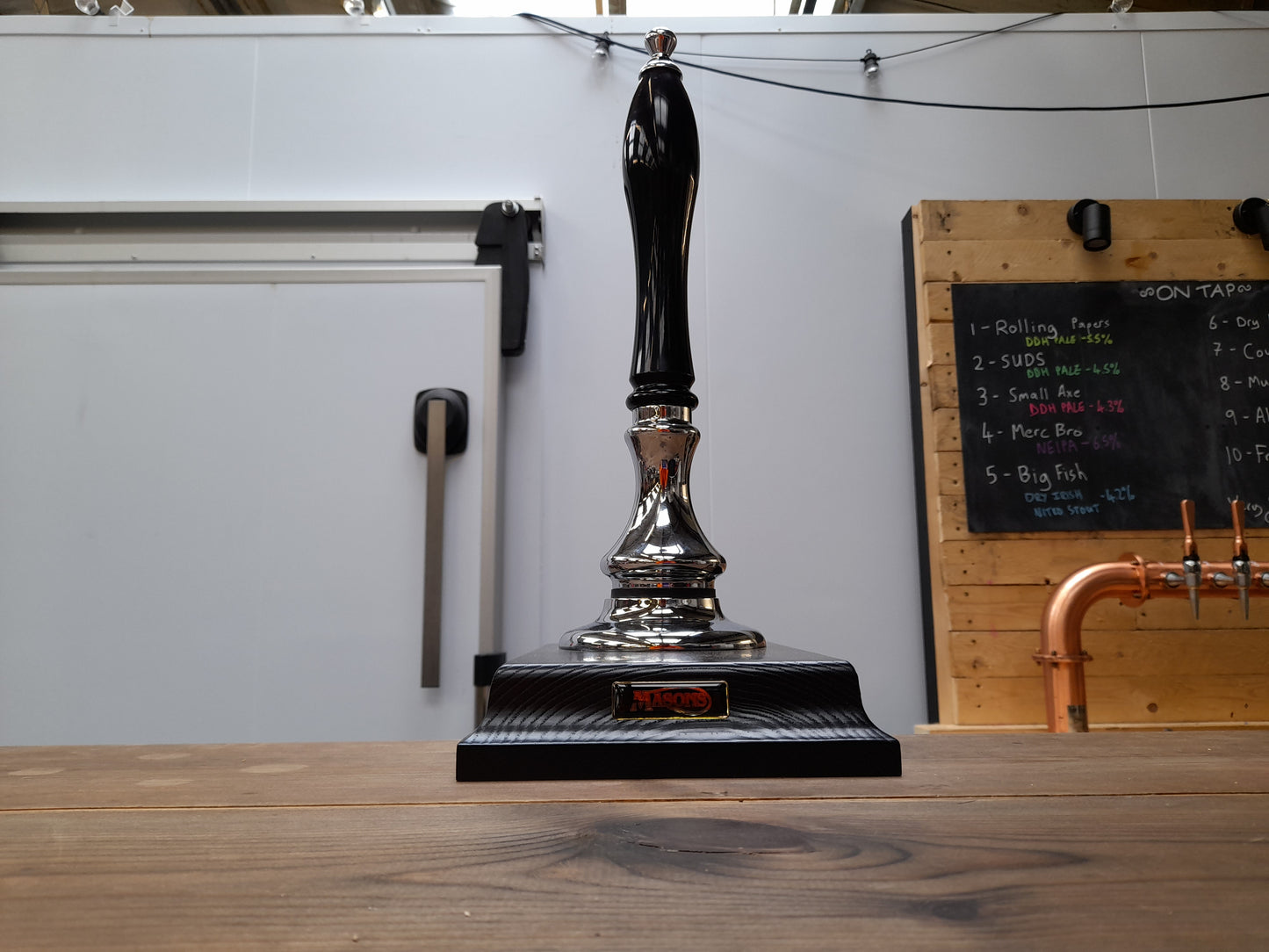 Unfortunately we've had to cancel this weekend's taproom at the brewery as our occasional license application was rejected this morning at Laganside Court.
Just to give a bit of background as to how a license for a one off taproom is currently obtained in Northern Ireland.
Each of the ~1200 pubs in Northern Ireland has the ability to apply for occasional licenses. These are licenses where the pub can trade outside it's licensed premises and requires an application to be made to the District Court, the Commander of the District Police Station, and to the local Council.
Up until lockdown, these applications were processed at Court by the Court Clerk.
The most well known use of occasional licenses is Belfast Continental Market at City Hall. This is a 6 week long event where occasional licenses are stacked back to back. Each license can last up to 6 days in a row.
Ravenhill rugby ground had to use occasional licenses each time they had a match until the legislation was updated in 2016 for National Stadia.
Looking at Schedule 30 of The Licensing (Northern Ireland) Order 1996.
Until the middle of 2021, we had no issues with being granted an occasional license (as long as we found a pub willing to lend us one). We submitted the paperwork at least 14 days before the event and we were always successful, the Clerk signed it off.
However, during lockdown, some pubs opened pop up venues in Belfast city centre. These venues facilitated the licensing of outdoor space in-between lockdowns, great for the city.
Hospitality Ulster even worked with the Courts to ensure the licenses passed with no issue. However, facilitated by our absurd monopolised licensing legislation, pubs don't like competition, or change. Innovation, change, anything that will create competition is shot down before it even gets off the ground. The rise of pop-up bars led to complaints being made to the Court. As a result, every occasional license application made to Belfast Court district is now scrutinised by a judge.
Some of the pop-up venues lost their license for short periods and had to implement other methods to get around the legislation, such as payments to charity on entry, or provision of entertainment where the customers are 'paying in' to see the entertainment.
As per the legislation, an occasional license can only be used where alcohol is ancillary to the main purpose of the event. Therefore, it's pretty difficult to justify a taproom in a brewery. Or a beer festival. We're wondering how beer festivals will get the go-ahead in the future if the legislation is applied to the letter of the law as is happening currently.
So every taproom we've run at Boucher for the last 12 months or so has had to go in front of the Judge.
They aren't hugely profitable events, the main reason we run the events is to give people somewhere different to go and to allow people to come in and see the brewery. The lack of certainty around whether we will actually get the license makes it very difficult to justify investing in it in any major way. For that reason, we've always represented ourselves at Court. Most of the big city centre bars use a solicitor, but they'll charge £350-500 for the pleasure and you still have to go and swear in at Court in front of the Judge with no guarantee of success. The application itself is £130 for 2 days, so the costs soon add up, with portaloo hire, staff, energy costs etc.
The event this weekend was the first one that's been rejected, and unfortunately we don't see any way around this with the current legislation. The new local producers' license will allow us to open at the brewery 104 times per year, but it doesn't kick in until 1st June and there are still a lot of unanswered questions around whether we'll need planning permission, whether we'll be able to use occasional licenses to host beer festivals / bigger events in the future (on the same premises) and how it will impact on our business rates.
We're currently in the process of applying for an entertainment license for the brewery. This means we'll be able to host gigs and bigger events. It requires jumping through a lot of hoops, but we're nearly there.
When we got our license through Court for Bullhouse East in the summer, we effectively had a veto on anyone else coming into the area. We were asked if we'd like to veto Boundary's license application. We rejected this offer to suppress innovation and stifle competition, much to the surprise of the solicitor given the vultures that operate in the licensed trade in NI. Competition isn't something to be feared, it helps keep innovation alive and helps create better venues for the whole community.
With the election coming up, we're firmly of the belief that the Executive missed a massive opportunity to reform licensing legislation, instead making minor tweaks and kicking it down the road. We received some great cross party support from individual MLAs during our campaign for a radical overhaul, from the likes of Rachel Woods (Green Party), Matthew O'Toole (SDLP), Kellie Armstrong (Alliance), Andy Allen (UUP) and Jonathan Buckley (DUP). When they're on your doorstep asking for your support, we'd really appreciate it if you could ask their opinion on the current licensing legislation and whether they support the removal of the 'surrender' principle. This is the main reason why we can't have nice things in NI.
For some light at the end of the tunnel, Bullhouse East is nearing the final stages of construction. It's been a much bigger project than initially anticipated. Essentially the building structure wasn't in great shape, so that any structural alterations have taken much longer than we planned for. Add in Brexit / The Protocol, Covid and now the war in Ukraine, everything costs a lot more and takes a lot longer.
We're currently waiting on the motors for the ventilation system, which are due to arrive on 6th April. This is holding everything up, but the building work will be finished in April. Before you begin trading, the Judge needs to give final approval. Because we missed the 1st April court date we're now in to the end of April / start of May for the next available date.
We'll be posting more photos on the Bullhouse East socials in the coming weeks. It's been a pretty hectic time here but we're really looking forward to getting the doors open and putting 20 fresh beers on and welcoming in the whole community.
Finally, we're putting a hand pull in the Bullhouse East. We'll try to do our own cask from time to time, but we're hoping it'll mainly be for pouring fresh pints of Ards Brewing, in homage to our Ards roots, but also because we've always been big fans of Charles and his beers, and they work wonderfully well on cask.
We got a new hand pull for the taproom this weekend, and we've already tapped and vented a fresh cask of Small Axe. Because we're still allowed to give beer away for free without a license, we've decided to open the brewery for 2 hours this Saturday (2nd April) from 4pm-6pm. We have one cask (72 pints) which will be served on a first come first serve basis, in proper glassware.
We won't be accepting any payments, but we will be encouraging donations to the UNHCR Ukraine Emergency Appeal, if you'd like to contribute in some way.
Much love,
Bullhouse